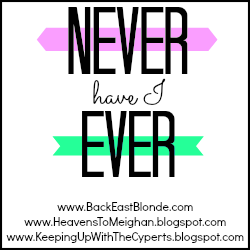 This is my first Link up so I hope I'm doing it right!
Never Have I ever:
1. gotten a tattoo
I'm such a wuss! And my Momma and Daddy might kill me!
2. Eat any seafood what so ever
I don't know if it's the smell or texture or both but it creeps me out!
3. Eat an Onion (YUCK!)
When I was younger, I would lie and tell reaturants that I was allergic so I would make sure they didn't put any onions, anywhere near my food! I haven't ate McD's in like 15 years due to them putting 1 single onion on my cheeseburger and I threw up in my happy meal...bad day.
4. broke a bone
Unless fracturing my pinky counts?
5. waxed my eyebrows
I over plucked them one day and they won't grow back now.....No need for waxing these days!
6. Done drugs
Like I said in #1, I'm as wuss!
7. had another animal besides a Dog
I'm allergic to cats
8. Felt so In love as I do now
I know, I know....I just can't help it! I have the best husband in the world!
9. liked baseball or golf
I don't mind playing them or going to see them played, but I can't watch it on t.v.
10. Met someone famous
But if I could meet anyone it would be Eric Church or Luke Bryan....Hello ladies!!
I feel really boring now...But I'm Not!!